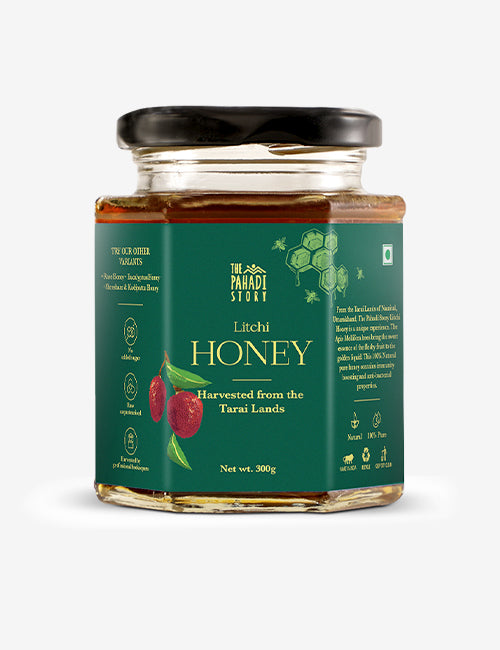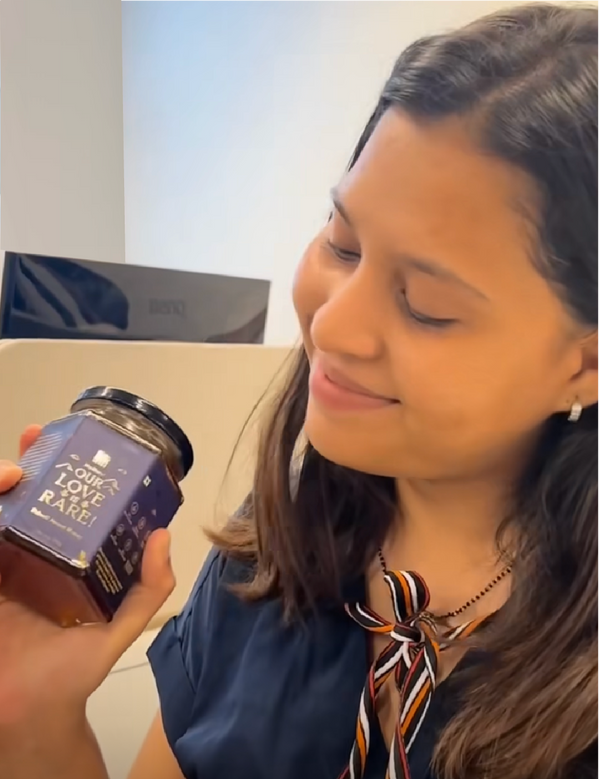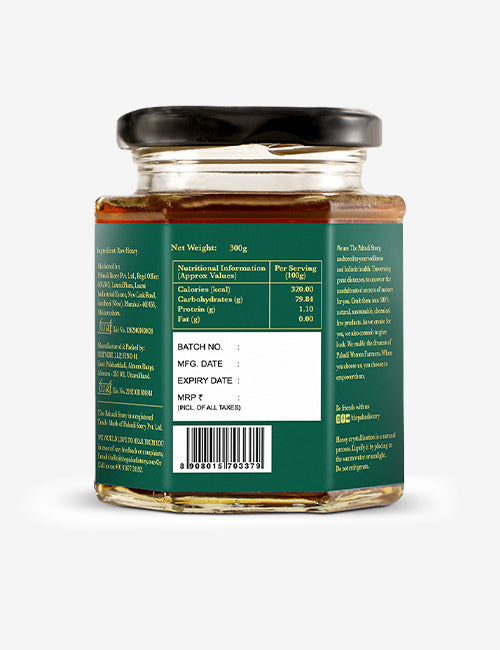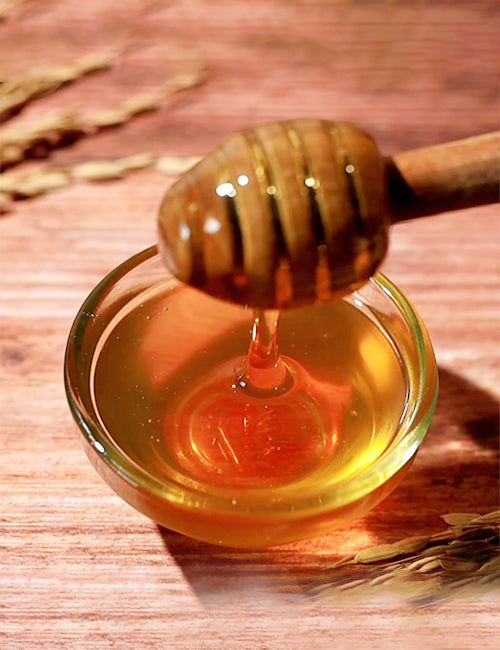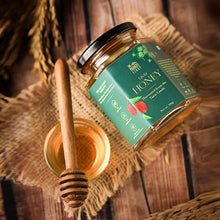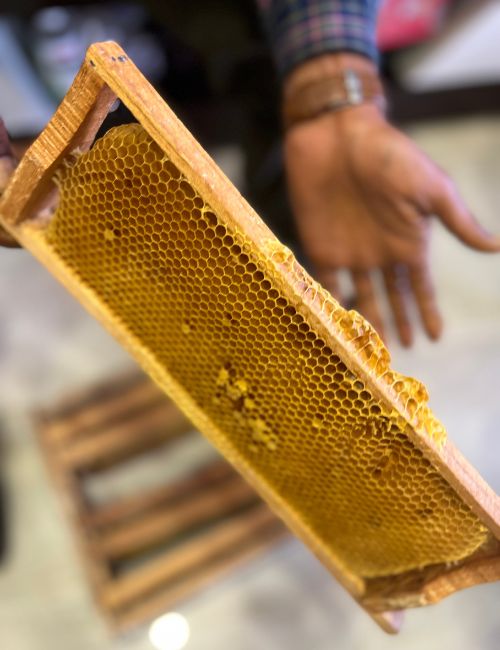 Description
Flavourful Litchi Honey
Boost your immunity, energy levels, digestion, and blood circulation while preventing signs of aging. Pair this light, refreshing honey with tea or drizzle it on toast for a delightful start to your day. Ethically harvested by experienced beekeepers, our unadulterated honey is a pure gift from nature
"My Best Tea"
Chef Natasha, Master Chef S6
"My 2nd Best Tea"
Chef Vicy, Master Chef S6
"My 3nd Best Tea"
Chef Ricky, Master Chef S6
Flavourful Litchi Honey
"My Best Tea"
Chef Natasha, Master Chef S6
"My 2nd Best Tea"
Chef Vicy, Master Chef S6
"My 3nd Best Tea"
Chef Ricky, Master Chef S6
MRP inclusive of all taxes
---
The Pahadi Story Litchi Honey is a delightful treasure. Crafted with care by our Apis Mellifera bees, this golden elixir captures the essence of succulent litchi fruits. The perfect fusion of the fruit's natural sweetness and the benefits of pure honey, it becomes an essential addition to your pantry.
Buy More. Save More. Empower More.

*Free Premium Tea Spoon Infuser on orders above Rs.2999 / Free Stainless Steel Tea Infuser on orders above Rs.1999
🚚 Ships Tomorrow | 24 Hours Delivery in Mumbai
Free Delivery on order worth INR 999/- & above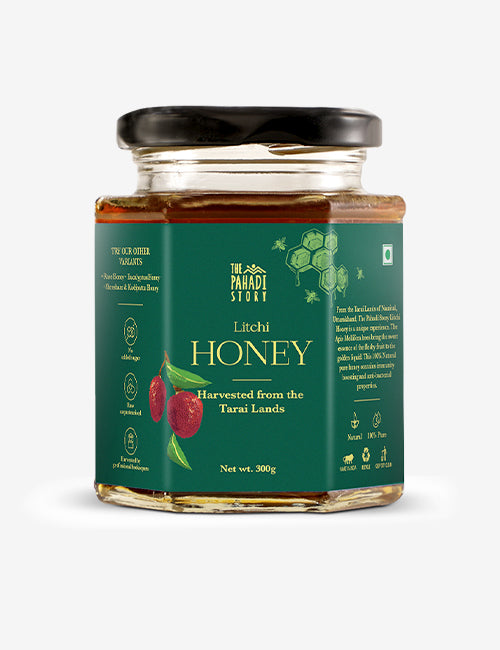 Highlights
Authentic Ingredient

100% Natural
Honey

Goodness Of Litchi

Cold & Cough
Relief

From the community of

Ethical
Beekeepers
An All-Natural Blend Of Nature's Most Refreshing
वसुधैव कुटुम्बकम
---
One World. One Family.
We are for them – the ones who wake up with the first ray of the sun, walk miles to their fields and sow love, for us to reap care. The Pahadi Story is for, and by, the women farmers of Uttarakhand. We are an act of compassion. When you choose The Pahadi Story, you choose to empower our community.
FAQs
What are the benefits of Honey?

Honey has well documented antibacterial properties. That is why honey does not go bad for several years and is highly beneficial for people suffering from a sore throat. Moreover, it also helps people lose weight due to its low-calorie content (if not mixed with sugar).

Can I Have This Everyday?

Pahadi Honey, which is sourced from the forests of Tarai lands, is perfect and safe to be consumed every day. Eating honey every day shields you from several diseases like cough and cold. It is also a natural sweetener that keeps your blood sugar levels in check.

How does Honey act as an antibiotic?

Honey acts as an antibiotic due to the presence of antioxidants. Therefore, it helps relieve bacterial and viral infections like a sore throat. Moreover, these antioxidants are responsible for slowing down the ageing process of our skin so that the damage caused due to stress is minimal.

What are the best ways to consume Honey?

One of the best ways to consume Pahadi Honey is to take it every morning with warm water. This is especially helpful for people trying to lose weight. The low-calorie content of honey ensures you keep your daily calorie target, and regular use will show impressive results.

How does Honey boost immunity?

Honey has strong immunity boosting properties due to the presence of antioxidants which help guard the body against foreign pathogens. It is composed of fructose, glucose and maltose together with other complex carbohydrates that make it a complete source of energy and wellness.

When is the best time to eat Honey?

Pahadi Honey can be eaten at any time of the day. There is no set time to consume this honey. But taking honey with warm water in the morning will have several health benefits like weight loss and improved overall heart health.

How should Honey be stored?

Pahadi Honey should be stored in a cool and dry place, away from the sun, to preserve its taste and benefits. Although honey does not go bad for several years, honey mixed with sugar can go bad after a month or two. Therefore it is highly advisable to buy natural Pahadi Honey without sugar.

How is Pahadi Honey to be consumed?

You can mix this honey in with some herbal tea to increase the benefits derived or you could even mix it with some warm water to kickstart your mornings.

What does raw Honey mean?

Raw honey essentially means that the honey hasn't been pasteurized. Pasteurization is a process that can significantly alter the taste of Honey due to the high temperatures at which its done. We want to bring nature to you in its purest form which is why we don't pasteurize the honey. It goes directly from the beehives into the jar.

Does raw Honey have a different taste than regular honey?

Yes, it will taste different to regular honey because it's unpasteurized. The high temperatures at which pasteurization is done can alter the taste of the honey, which is why our raw honey might have a slightly different but equally delicious flavour.

Does raw Honey crystallize?

Yes, every honey crystallizes due to the breaking down of glucose. It is completely normal and it's safe to consume crystallized honey as long as it's not fermented.

Is there a way to test the purity of Honey?

Raw and pure honey crystallizes quicker than processed and pastuerized honey.

Is Honey suitable for all age groups?

Yes, honey is safe to be consumed by people over the age of one years old.

Why does one batch of Honey taste slightly different from the other?

The taste of honey changes depending on the type of blee and the flower the bee extracts its nectar from.

Where is this Honey sourced from?

We ethically source our honey from expert beekeepers in Nainital, Uttarakhand who have been perfecting this craft for generations.

Do you add artificial flavouring to Honey?

Nope, all the flavouring comes from the nectar itself. We do not add anything extra to the honey, making it pure and unadulterated.

What is the shelf life of Honey?

Honey has no expiry date as such but it best to consume within 24 months of manufacture to get the full benefit out of it.

Is Honey good for weight loss?

Yes, honey is suitable for people who are trying to lose weight. It's a much more nutritious option as compared to refined sugar. Honey is naturally antioxidant rich which can increase metabolism and keep you active.

Can Pahadi honey be used as a sweetener?

The Litchi Honey and Pahadi Forest Honey can be used as sweeteners but the Sheesham & Curry Leaves Honey and the Eucalpytus Honey have a more distinct flavour that is better consumed with water or milk.
This product has no reviews yet.