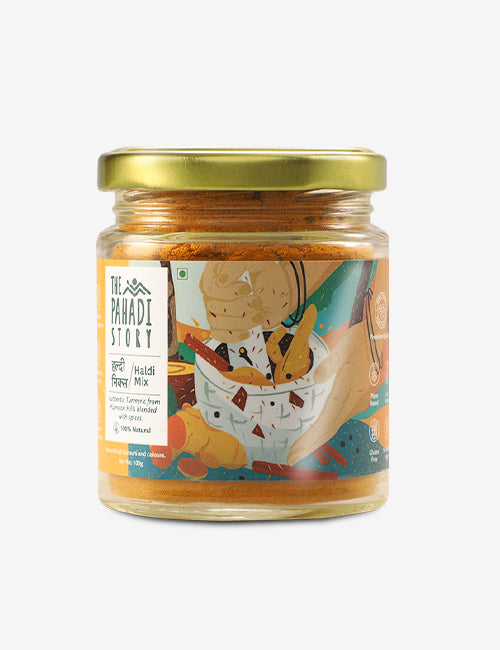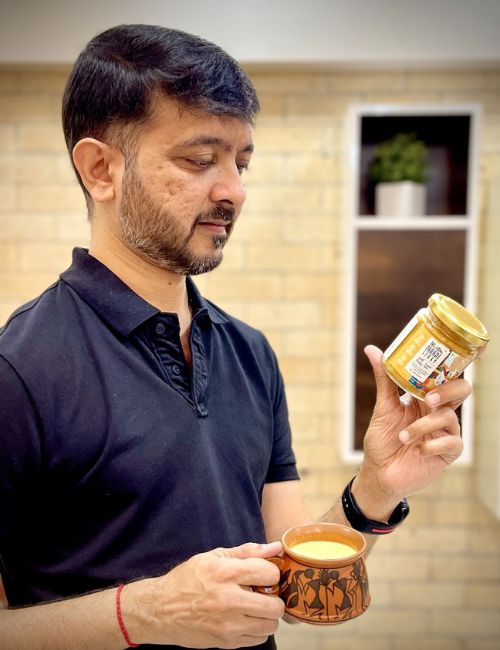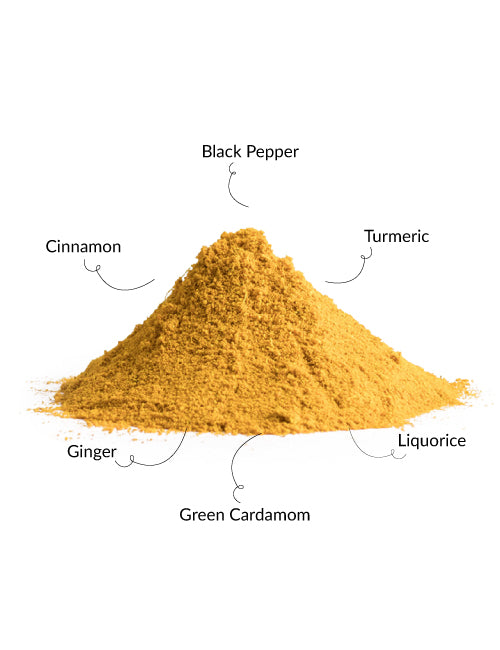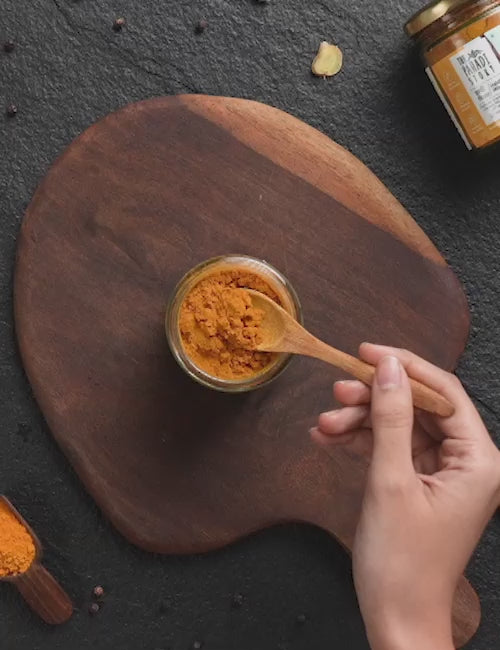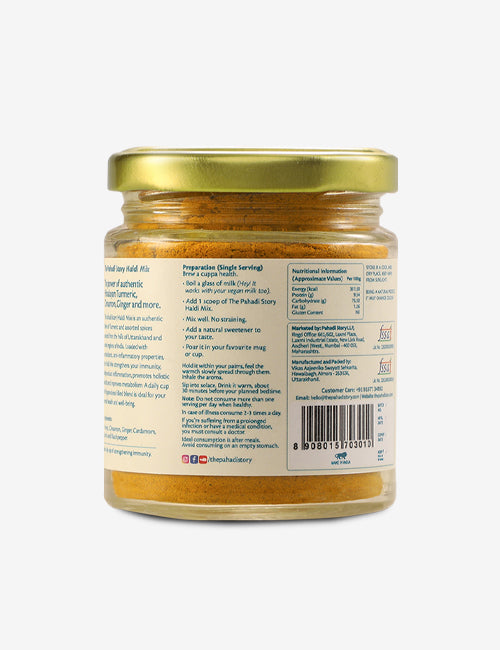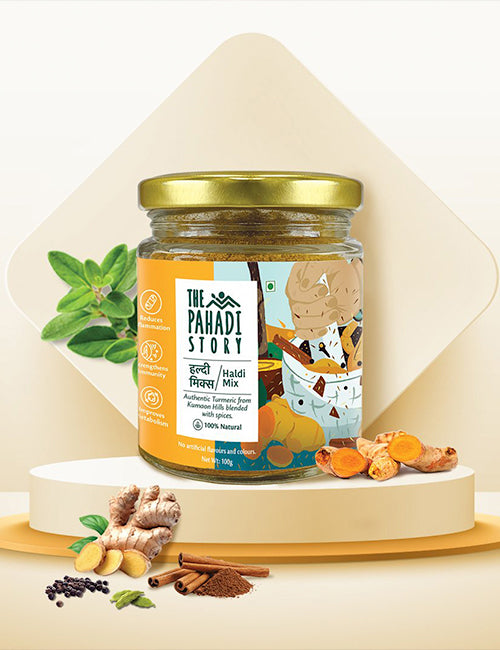 Description
Aromatic & Flavourful Haldi Mix For Immunity
Unleash the power of this golden elixir as it boosts your immunity, reduces inflammation, and enhances metabolism, empowering you to care for your health holistically. Get ready to embrace a new level of well-being with every sip of this extraordinary concoction.
Aromatic & Flavourful Haldi Mix For Immunity
MRP inclusive of all taxes
---
Let's get on a transformative wellness journey with Pahadi Haldi, sourced directly from Uttarakhand and expertly blended with five potent and aromatic age-old spices. This unique fusion of cinnamon, ginger, cardamom, licorice, and black pepper unlocks the maximum benefits of Haldi.
Buy More. Save More. Empower More.

Free Premium Tea Spoon Infuser on orders above Rs.2999 / Free Stainless Steel Tea Infuser on orders above Rs.1999
🚚 Ships Tomorrow | 24 Hours Delivery in Mumbai
Free Delivery on order worth INR 999/- & above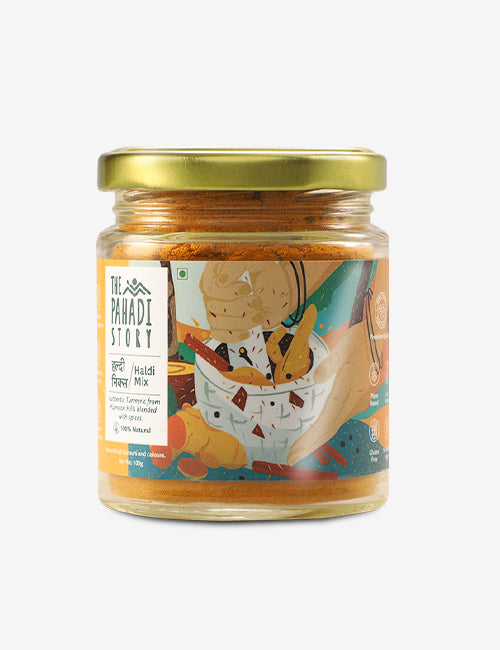 Highlights
Authentic Golden Spice

Pahadi Haldi from hills

Healing Ingredients

6 Essential Herbs & Spices

Grandma's Secret

Haldi for Holistic Health

Sourced From Uttarakhand

Naturally Dried Green Tea
An All-Natural Blend Of Nature's Most Refreshing
x
A perennial herb that has the perfect balance of flavours. An immunity booster that also contains antiseptic properties.
x
Provides sweet and spicy notes that will make you feel all cozy. High in antioxidants and improves gut health.
x
An explosive yet tasteful balance of flavours. Anti-inflammatory and good for maintaining oral health.
x
Soothes and comforts your soul with its refreshing notes of flavours. Strengthens immunity and relieves cold.
x
A kick of spice that'll wake you right up. Relieves bloating which makes it good for gut health.
x
Ancient golden spice that provides pleasing natural colouring. An immunity booster and packed with antioxidants.
वसुधैव कुटुम्बकम
---
One World. One Family.
We are for them – the ones who wake up with the first ray of the sun, walk miles to their fields and sow love, for us to reap care. The Pahadi Story is for, and by, the women farmers of Uttarakhand. We are an act of compassion. When you choose The Pahadi Story, you choose to empower our community.
FAQs
What are the benefits of Haldi Mix?

Turmeric, or Haldi, is one of the most prominent immunity booster ayurvedic products. The Haldi Mix leverages this ingredient to strengthen your immunity and get rid of joint and wound pain. To get maximum benefits, consume Haldi Mix with milk half an hour before bed.

Are there any side effects of Haldi (turmeric)?

Coming from a group of Ayurvedic herbs for the immune system, Haldi is 100% natural and does not have any side effects. However, it's best to consult a doctor first before treating any existing and chronic ailment/allergy/illness.

What is the best time to take Haldi (turmeric)?

Pahadi Haldi can be used at any time of the day, depending on your preference. But to get maximum benefits, drink Haldi Mix 30 minutes before going to bed and see the blend of 9 potent ingredients heal your body!

Can we drink milk with Haldi (turmeric) daily?

Yes! It is a common practice to take milk with turmeric for immunity building purposes regularly. The combination of milk and Haldi makes it an extremely beneficial drink. It boosts your immunity manifold, aids in digestion and even provides immense relief from pain.

How does Haldi (turmeric) boost your immunity?

Turmeric has antiviral, antifungal, antibacterial, and prebiotic properties. Curcumin, a phyto-derivative compound present in turmeric, is responsible for increasing immunity by promoting inhibitory actions against microbes. Therefore, immunity booster ayurvedic products with Haldi as the main ingredient are known to reduce the risks of cancer, arthritis and cardiovascular diseases.

How much Haldi (turmeric) can you have in a day?

The optimal dose for curcumin (a compound present in Haldi) ranges between 150-250 mg. And the recommended dosage for consuming turmeric for immunity building lies between 500–2,000 mg per day. This amount is enough to reap all the health benefits. Increasing the dose is not advisable for long term use.

What are the best ways of consuming Haldi (turmeric)?

The best way to consume turmeric for immunity is in liquid form - water, milk, drink, smoothie. It is not just a metabolism booster but also a good digestive agent. Going classic with pulses and curry is another excellent way to extract maximum health benefits from this immunity booster ayurvedic product.

Do you consume Haldi Mix on an empty stomach?

No, it is recommended that you have this half an hour before you go to sleep.

Is Haldi Mix only suitable for winters?

No, it can be consumed all year round.

Is it necessary to have Haldi Mix warm?

Nope! You can have prepare this with ice and cold mix for a chilled turmeric latte or you could even make a smoothie out of it.

Does this Haldi Mix only contain turmeric?

Nope, it is a potent blend of six potent herbs and spices like ginger, cinnamon, turmeric, green cardamom, liquorice and black pepper.

Why are these ingredients specific to Haldi Mix?

Ginger adds a refreshing taste and reduces muscle soreness. Cinnamon aids in weight loss and it's good for heart health. Turmeric is a natural immunity booster which is rich in antioxidants. Green cardamom has anti-inflammatory properties and it also helps in digestion. Liquorice is an immunity booster with antiseptic properties. Black pepper improves respiratory functions and digestion.

What does it taste like?

It will take you back to the good old days of your childhood with its warm, sweet and spicy flavours.
This product is rated 5.0 of 5.0 stars.
It has received 5 reviews.