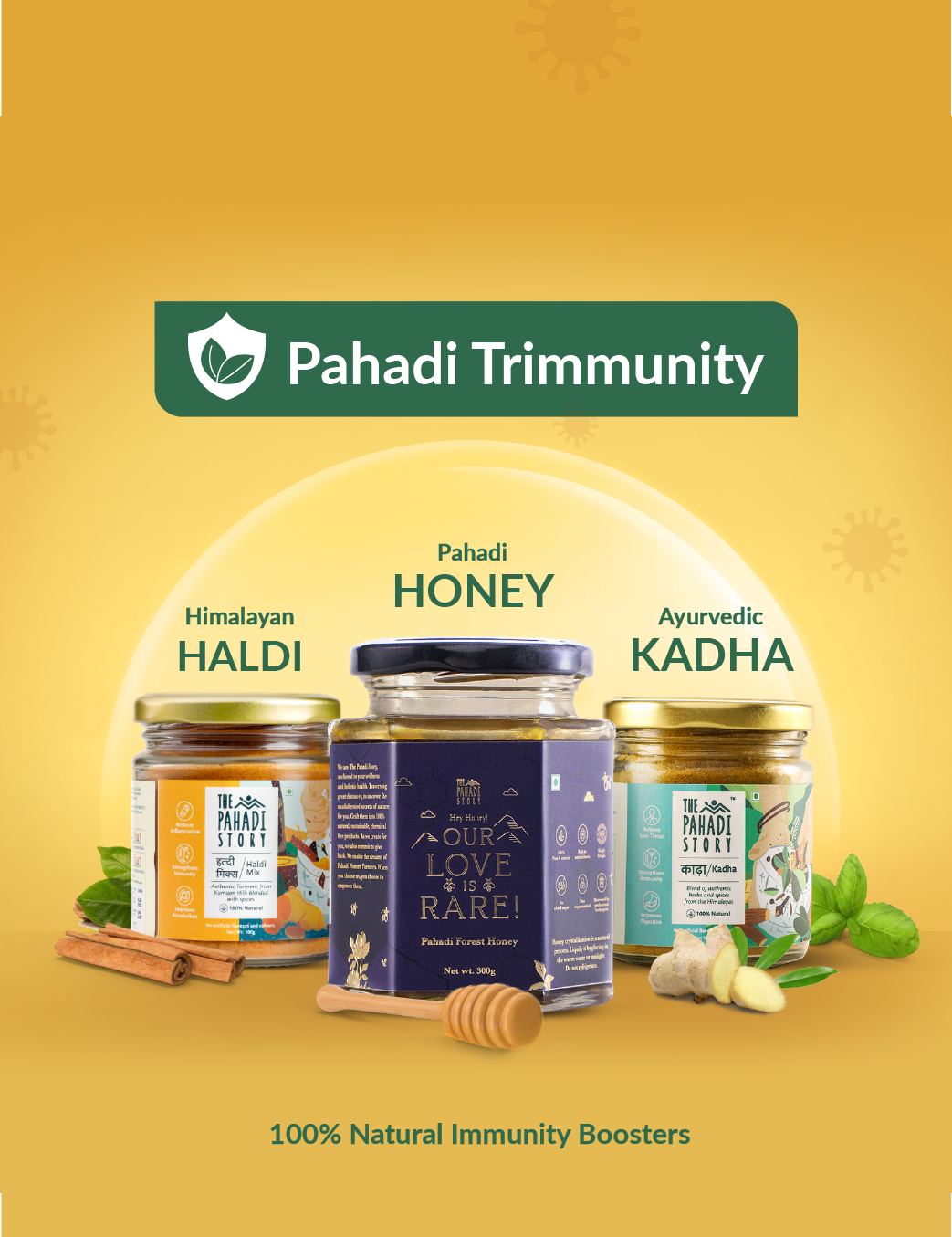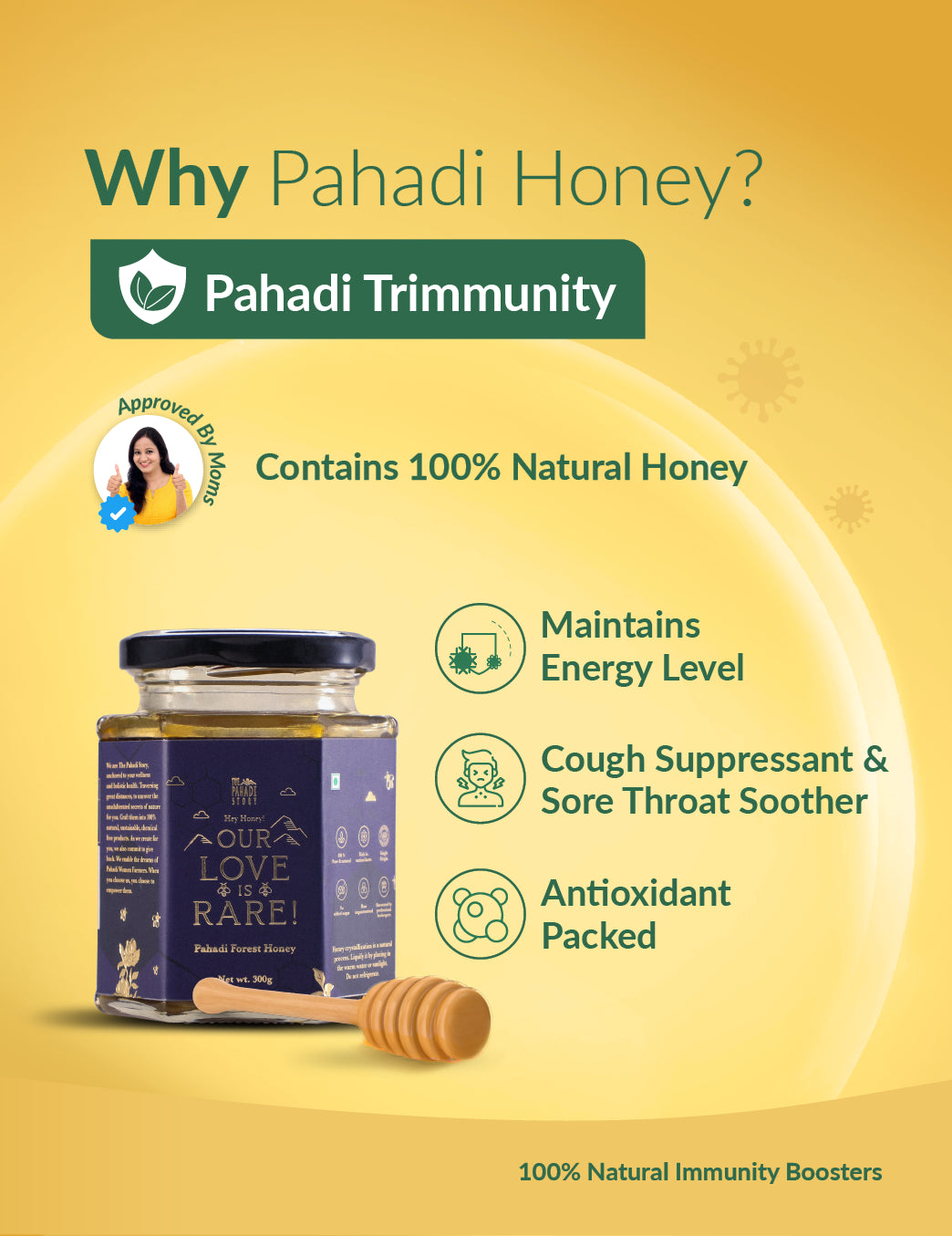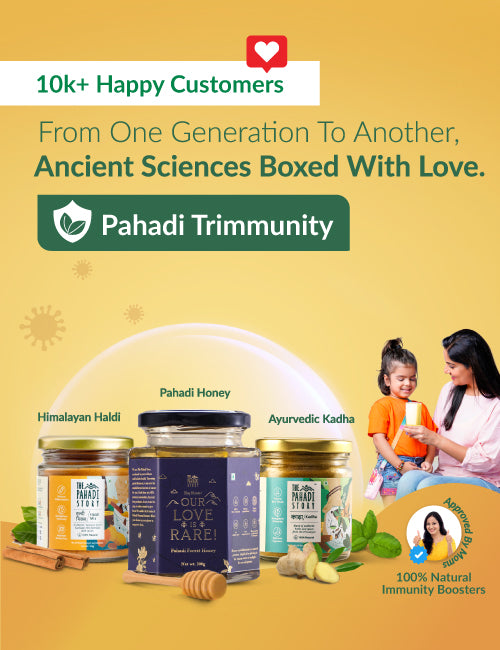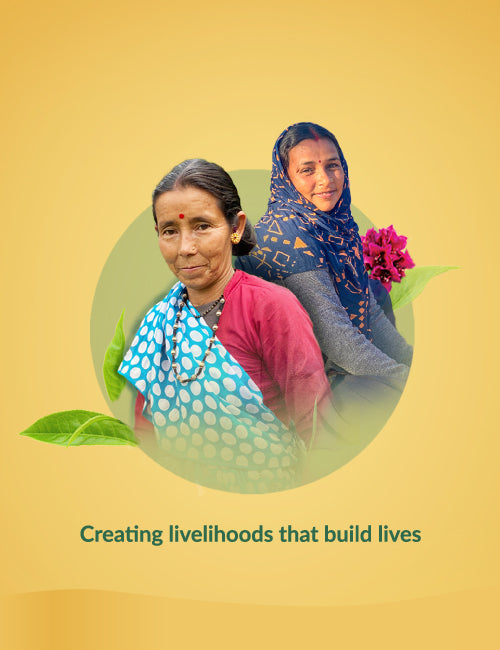 Description
The Pahadi Trimmunity
Approved by mothers across the nation, Pahadi Trimmunity is your immunity's new best friend. A 100% natural and preservative-free wellness pack. It includes Himalayan Haldi, Rare Pahadi Honey and Ayurvedic Kadha - natural immunity boosters sourced from our beloved Devbhoomi - Uttarakhand, the trio pack is a must-have for every household during winters - especially in cities with high pollution and poor air quality.
"The Haldi Mix tops the chart."
Vishal Parekh
"My friend in times when I am ill."
Meghna M.
"The quality and flavour is superb."
Radhika
Packed With 13 Ayurvedic Ingredients
The Pahadi Trimmunity
"The Haldi Mix tops the chart."
Vishal Parekh
"My friend in times when I am ill."
Meghna M.
"The quality and flavour is superb."
Radhika
MRP inclusive of all taxes
---
Elevate your winter wellness with 'The Pahadi Trimmunity.' This exceptional immunity-boosting combo features Rare Pahadi Honey, time-tested Ayurvedic Kadha, and Himalayan Haldi. Tailored for health-conscious Indians to battle flu, pollution, stress and other factors that affect the immune system during winter. Nourish your body with the natural goodness of the Himalayas to stay strong and vibrant all season long.
Inside The Trio Pack
1 x Himalayan Haldi 🏔️🌿🌟 - 100gm
An aromatic immunity-boosting mix of 6 ayurvedic herbs

1 x Pahadi Honey 🏔️🍯🌿🌟- 300gm
Unadulterated honey ethically harvested by experienced beekeepers

1 x Ayurvedic Kadha 🌱🍵🌿🌟- 100gm
Authentic wellness remedy containing 12 ayurvedic herbs
Free Delivery on order worth INR 999/- & above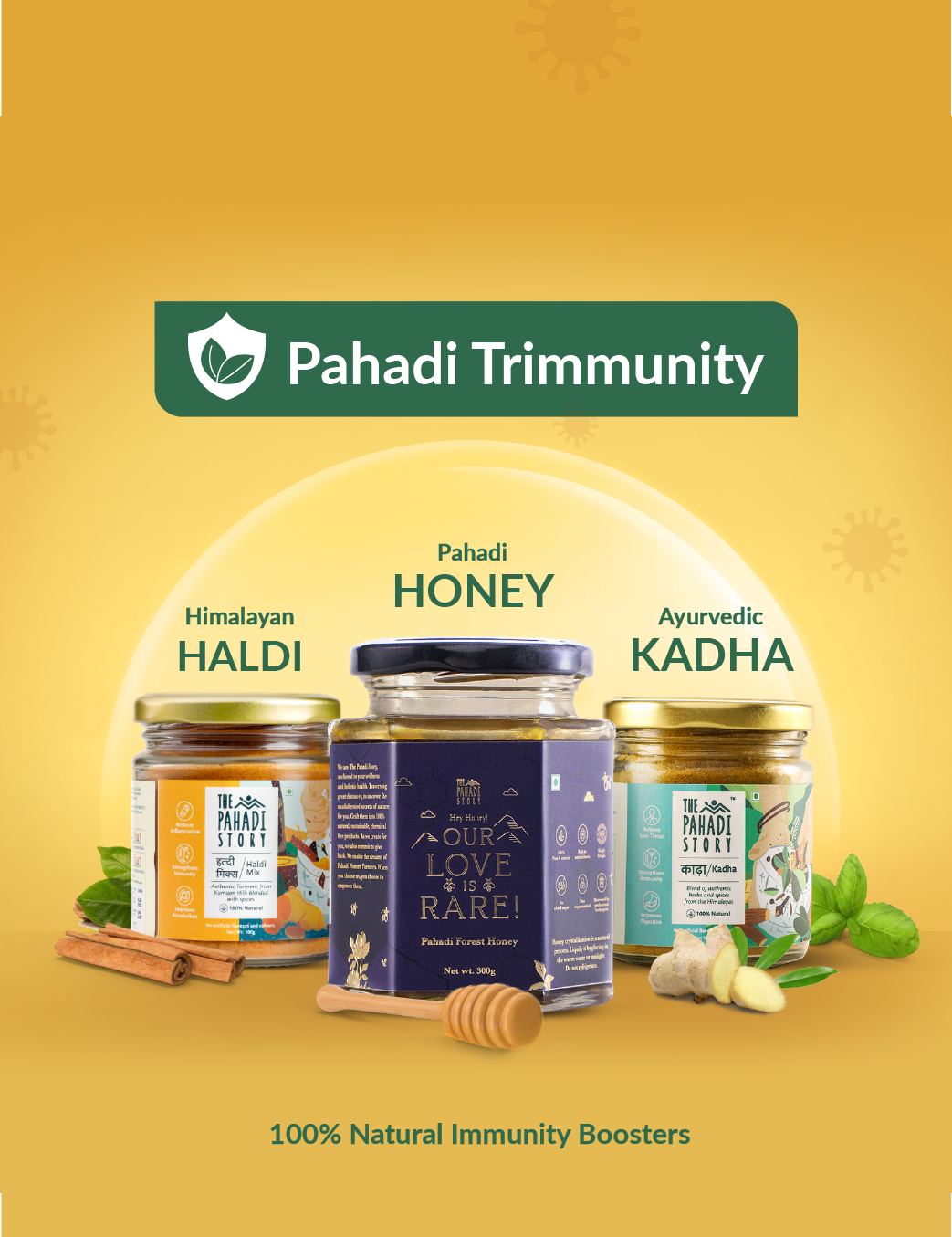 Highlights
Ayurvedic Kadha

A quick herbal
wellness remedy

Rare Pahadi Honey

Derived from
medicinal plants

Himalayan Haldi

Flavorful
immunity booster
How to brew Ayurvedic Kadha?
How to Prepare Haldi Mix?
An All-Natural Blend Of Nature's Most Refreshing
x
A perennial herb that has the perfect balance of flavours. An immunity booster that also contains antiseptic properties.
x
Provides sweet and spicy notes that will make you feel all cozy. High in antioxidants and improves gut health.
x
An explosive yet tasteful balance of flavours. Anti-inflammatory and good for maintaining oral health.
x
Soothes and comforts your soul with its refreshing notes of flavours. Strengthens immunity and relieves cold.
x
A kick of spice that'll wake you right up. Relieves bloating which makes it good for gut health.
x
An aromat that provides a warm, homely scent and a dash of spice to add onto the flavour. Packed with antioxidants and fights free radicals.
x
Ancient golden spice that provides pleasing natural colouring. An immunity booster and packed with antioxidants.
x
A magical seed that has it all, the flavour, the texture and the aroma. Good for heart health and reduces inflammation.
x
An ancient root that's packed with health benefits. Immunity boosting and stress-relieving properties.
x
The Queen of Herbs. A powerhouse of benefits. It has antimicrobial and anti-inflammatory properties. It also relieves stress and anxiety so you can go about your day with a clear mind.
x
A subtly sour flavour. Packed with Vitamin C and antioxidants, this berry improves metabolism and prevents further infections.
x
A beautifully vibrant flower straight from the lush estates of Uttarakhand. Rich in antioxidants, Vitamin C, enables detoxifying and it also has anti-inflammatory properties.
वसुधैव कुटुम्बकम
---
One World. One Family.
We are for them – the ones who wake up with the first ray of the sun, walk miles to their fields and sow love, for us to reap care. The Pahadi Story is for, and by, the women farmers of Uttarakhand. We are an act of compassion. When you choose The Pahadi Story, you choose to empower our community.
FAQs
What is Pahadi Trimmunity

Created by keeping Ayurvedic Sciences in mind, the Pahadi Trimmunity is trio pack of Himalayan Haldi, Pahadi Honey and Ayurvedic Kadha - that provides you with a total of 13 ayurvedic ingredients known for immunity-boosting. Sourced directly from Uttarakhand, each ingredient used is 100% natural, lab-tested and preservative-free, making it a safe and organic way to boost your immune system.

What is Kadha?

Kadha is a traditional medicinal drink made from an assortment of ayurvedic herbs for the immune system. It has been used for a long time to treat common illnesses like cold, cough and fever due to its antiseptic and anti-inflammatory properties.

What is the best time to drink Kadha?

The best time to drink our Ayurvedic Kadha is in the morning, on an empty stomach, 20 minutes after brushing your teeth. This helps in smooth absorption of the Kadha and efficient results.

What is Haldi mix?

Haldi mix is a blend of turmeric and ayurvedic herbs and spices that can be added to milk and consumed for an immunity boost.

What is the best time to consume Haldi mix?

Pahadi Haldi can be used at any time of the day, depending on your preference. But to get maximum benefits, drink Haldi Mix 30 minutes before going to bed and see the blend of 6 potent ingredients heal your body!

Is honey an immunity booster?

Yes. Honey is considered to be an immunity booster.

Will this combo make me strong?

While a healthy lifestyle includes a lot of factors like diet, exercise, etc., adding Pahadi Trimmunity to your lifestyle is a great way to boost your results as it contains ayurvedic herbs and spices that are considered to have several health benefits.
This product is rated 4.7 of 5.0 stars.
It has received 7 reviews.